Our local businesses are working hard to keep open and keep customers safe, keeping essential services going during the coronavirus pandemic; they undertake many roles, and we're celebrating this collective show of unity via #YorkKind.
Clare's story, Copper and White
I run a luxury clothing business and have a stall at Shambles Market where I sell a range of modern clothing, accessories and jewellery.
When we went into lockdown, I used the time to focus on developing the online side of my business – working on my website and growing my social media. I've had a really positive response to this and it's something that I will continue to develop even now my stall has reopened.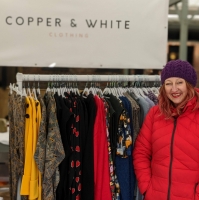 It's been great to be back on Shambles Market and lovely to welcome my regular customers back. The market team have done a great job of putting barriers and signage in place and it's been really good to see how considerate and positive the public have been about the social distancing measures. I've also made some changes to reconfigure the layout of my stall and ensure that there are hand sanitisers available and extra hygiene measures in place to regularly clean the space.
I've really enjoyed being back and speaking to customers again and I've also introduced some new promotions which have been really well received. Shambles Market has a lovely community of traders and we are all working together to encourage residents to shop local and support small businesses.
Going into lockdown, I was initially upset about not seeing family and friends, however I decided that I would use this time as an opportunity to learn new things. As I live in a rural location I've taken up jogging and have really loved getting outside and appreciating the simple things in life. I've also used the time to master the art of my overlocker machine – creating pouches for my customers' orders which they've really loved!
Looking ahead, it's also made me think about how I can be more sustainable with my business and make changes to look after the planet more. I'm also excited about getting to see my sisters again and celebrate a belated 60th birthday for one of them!
Also see