Our local businesses are working hard to keep open and keep customers safe, keeping essential services going during the coronavirus pandemic; they undertake many roles, and we're celebrating this collective show of unity via #YorkKind.
Greg and Ail's story, According to Mcgee
My wife and I have directed an art gallery opposite Clifford's Tower for 16 years. We pride ourselves on being provocative and playful with contemporary work in a heritage city.
We feel excited about reopening the gallery towards the end of June, when our new collection 'Return of the Painter' is ready.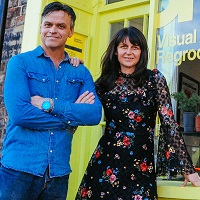 Our social media posts through lockdown have included a celebration of aspiring and uplifting paintings.
Our online sales have been successful, with people looking for softer seascape and landscape pieces rather than more edgy pieces. It is interesting that people are looking for peaceful paintings during these challenging times, I liken this to it being 'a time for ballads, not rock songs'.
The new exhibition will present paintings of land and sea to help heal at this fragmented time, offering a much welcome balm to our cohort of collectors.
The gallery is only busy when we hold launch events, therefore the next exhibition will simply run for the full month without holding an opening launch. We will have notices up as reminders about social distancing, but generally the gallery has it's own organic one way system.
We are both entwined in our professional life as gallery owners and are looking forward to dealing art again. I also enjoy making films and I have created some art camp sessions on YouTube for children to explore themes such as hope, and what they have missed most during lockdown.
Also see