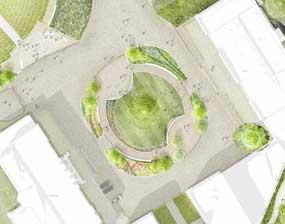 Plans to deliver a world class public space in York are taking the next step forward, with a planning application for the My Castle Gateway scheme set to be submitted in the coming weeks.
Design options for the space around the Eye of York were shared to test the different options with residents in August 2021.
Design consultants BDP have responded to the feedback and developed designs that include:
retaining the oak tree
preserving the circular form of the space
providing more biodiversity, performance spaces and seating
The design also recognises the potential of the Female Prison steps and podium as a place for performance, with the planting design allowing lines of sight from the central grassed area to enjoy music or theatre against the backdrop of the portico of the building.
See more information on the design considerations and changes for the Eye of York space.
Councillor Nigel Ayre, Executive Member for Finance and Performance, said:
I would like to thank everyone who took the time to provide feedback on design proposals, as part of the My Castle Gateway public engagement.
"The feedback has informed the refined design for the Eye of York space that now centres on the lawn and tree, as well as creating new areas that face out to Clifford's Tower and the Castle Museum that will encourage people to meet, gather and enjoy the space.
"A planning application for the Castle Car Park and the Eye of York area will be submitted shortly, which will be the next step in delivering a world class public realm in York."
Residents can keep up to date with the My Castle Gateway project via: