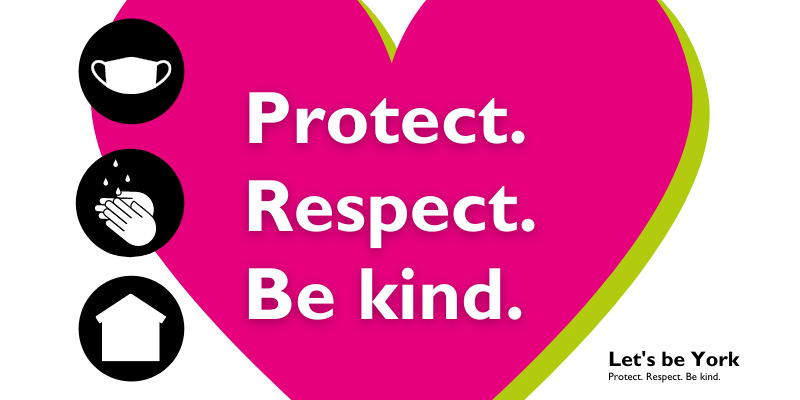 From today, City of York Council has launched a new campaign to encourage residents and visitors to 'protect, respect and be kind' as everyone adjusts following the lifting of national restrictions.
England has now moved to Step 4 of the Government's roadmap, which has lifted most legal restrictions to control COVID-19. As we all adjust to this new way of living, resident and visitors are reminded to continue to be considerate of people around them who may be nervous at this time.
From today, more businesses will be reopening across the city. To support this, the campaign also reiterates the message to remain patient and kind as our amazing business community continue to adapt to restriction changes and provide a safe and enjoyable experience for everyone.
Businesses in York can now download the new 'Protect, respect and be kind' business toolkit to support the campaign and encourage customers and visitors to continue to be considerate of others. The toolkit is available at: https://www.york.gov.uk/BusinessToolkit
Visit the gov.uk website to read the full list of changes in England for Step 4 of the roadmap.
Cllr Keith Aspden, Leader of City of York Council said;
"Today marks a significant milestone in our city's response to the pandemic. For many, this is a day of relief and enjoyment, with friends and family meeting in larger groups and more local businesses opening across the city. However, It is important to remember that for some, the lifting of restrictions is a worrying time as we adapt to a new way of living. This past year hasn't been easy for any of us, and we have all experienced the impact of the pandemic differently, so please be mindful of others when enjoying the city.
"Our campaign aims to encourage everyone to respect one another during the weeks and months ahead, as well as highlight the amazing efforts local businesses continue to undertake to adapt and provide enjoyable and safe experience for this customers. We must continue to be kind and patient as businesses adapt to these changes and respect individual company policies that may remain in place.
"The rate of positive cases is higher than we would like, and recognising that the pandemic is not over, our helpline continues to offer support to anyone who needs it. Please call 01904 551550 or email COVID19help@york.gov.uk should you need any support and we will do what we can to help you.
"Let's continue to uphold that great York spirit and protect, respect and be kind to one another this summer."
Sharon Stoltz, Director of Public Health said;
"Whilst we can all now enjoy a wider range of activities, social gatherings and businesses, it is important to continue to do all we can to protect each other from the virus and to respect those who are anxious at this time.
"As cases of COVID-19 continue to rise and the vaccine rollout continues, we must all remain careful and cautious maintaining the good hygiene practices we have all taken up this past 16 months. I would also urge residents who have not yet taken up the opportunity to be vaccinated to get both doses of their jab; not only does it protect you but it will also help protect others from the virus.
"Regular symptom-free testing, hand washing, staying home and getting tested if you feel unwell, wearing a face covering in busy and indoor places and making space remain key parts of our lives as we move forward and learn to live with coronavirus in our communities. Let's enjoy our city safely this summer."
Professor Karen Bryan, Vice Chancellor at York St John University
"At York St John University we welcome the latest steps towards bringing our learning community back together, but we also recognise the importance of proceeding with care and consideration for one another.
"The Protect, Respect, Be Kind campaign will help us all to think about our actions and how they impact other people. This reflects the strong community approach York St John has taken throughout the pandemic. Along with partners across the city we will be sharing this important message with our staff and students."
Regular testing remains a key pillar to everyday life as we enter this next step in the government's roadmap. To find where you can get symptom-free tests or collect kits visit: https://maps.test-and-trace.nhs.uk/#/location/York/map . Information on all council-run testing sites can be found at https://www.york.gov.uk/symptomfreeCOVIDtest
If you are unwell and have symptoms of COVID-19 you must self-isolate and only leave home to visit a testing site or to post your PCR test if taken at home. To find out more visit: https://www.nhs.uk/conditions/coronavirus-covid-19/testing/get-tested-for-coronavirus/