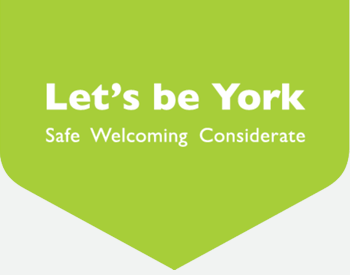 City leaders have today thanked York residents and urged everyone to continue working together to protect the people and places we love.
The Government has today outlined a new three-tier system for restrictions, split between 'medium', 'high' and 'very high' levels. The new system has been introduced in an effort to tackle the rising number of Covid-19 infections nationally.
Although it has not been officially confirmed by the Government, it is understood that York will remain at the medium level, meaning that there will be no additional restrictions, beyond the current national guidance, to be introduced for York's residents and businesses.
However, it is important to underline that York's infection rate is rising significantly and the Council continues to work with partners across the city to address this. City leaders have urged everyone to play their part to slow the spread of the virus and to avoid stricter restrictions in the future. Residents and visitors are being urged to follow good public health measures and remember Hands, Face, Space at all times, to protect those we love and keep the places we enjoy open.
The provisional rate for the last seven days of new Covid cases for every 100,000 people in York is 207.2. This is higher than the national average of 133.8, but lower than the regional average of 231.9.
Councillor Keith Aspden, Leader of City of York Council, said:
"Whilst it is welcome the early indications that no further restrictions are to be put in place in York, we must remain vigilant and work together to keep our city safe and open."
"It is thanks to our collective effort that we can continue to keep the places we love open. However, as the number of cases continue to rise in York and across the country, we must not rest on our laurels and continue to work together to protect jobs, keep our friends and family safe and keep the places we love open.
"This year has been exceptionally difficult for many, and we are grateful to residents and businesses across the city who continue to do their bit in protecting our city. Despite the challenges of this year, York has demonstrated what it does best − pulling together and supporting each other. It is crucial that we continue in this spirit and work together over the coming weeks and months."
Sharon Stoltz, Director of Public Health, said:
"This is welcome news, but it does not mean we can relax.
"We continue to closely monitor the data to track the spread of the virus as quickly as possible. We're seeing the virus spread mainly through social contact and households mixing indoors and not social distancing.
"We know how hard it is to stay away but the best way to show love at the moment is to keep your loved ones safe by practicing Hands. Face. Space. We must continue to wash our hands regularly, observe social distancing and wear face coverings in busy places.
"Please make sure you are familiar with the symptoms, self-isolate if you show any of them, and book a test straight away."
What medium level means for you:
Social contact
The Rule of 6 continues to apply

Childcare bubbles (for under-15s/years 9 and 10) children (or vulnerable adults) where necessary for caring purposes (to be a consistent childcare relationship, not for playdates).

Up to 15 people at wedding, civil partnership ceremonies and 'significant event' gatherings
Up to 30 people can attend funerals
No mass events for example sports events and pilot performances
Organised sport is only allowed outdoors
Visiting indoor hospitality/leisure/retail settings under rule of 6
Businesses
Business in sectors which are permitted to open by law can remain so providing they meet Covid19-Secure guidance.

All workers in indoor hospitality must wear face coverings and/or work behind screens (chefs, waiting staff, etc.). Customers must also wear face coverings, apart from when seated

Leisure and entertainment venue must be closed between 10pm and 5am, but can continue delivery after 10pm.
Food and drink venues will be table service only.
More stringent Covid19 secure guidance and enforcement. Where possible, WFH should be encouraged.
For the latest government guidance for your business go to gov.uk/coronavirus
Keep informed
This week residents are invited to join a Live Coronavirus Q&A where city leaders will be discussing the latest public health updates and answer questions.
Tuesday 13 October, 6-7pm – Public Health Update, including with Cllr Keith Aspden and director of public health, Sharon Stoltz.
Head over to our Facebook page to watch them live. Ask your questions by commenting live or email your question ahead of time to YourQuestions@york.gov.uk and specify which live Q&A your question relates to.
We also have regular resident email updates, sign up at https://www.york.gov.uk/form/EmailUpdates
Daily COVID case data for York is available on our social media accounts: Follow us on Facebook or Twitter.