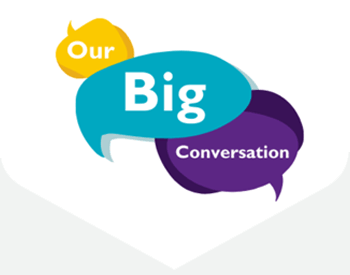 Residents have until 25 September to share their views on the potential benefits and opportunities devolution could offer York's future long term economic prosperity.
They can also join the next council's live Q&A to discuss devolution and the ongoing city response to Coronavirus.
City of York Council want to hear your views about North Yorkshire devolution and where you want decision making to take place. You are invited to join Our Big Conversation and take the latest survey either online or via the paper survey in your most recent edition of Our City magazine.
The deadline for submitting your views in this latest survey is 25 September 2020.
Find out more about the latest developments for devolution and North Yorkshire at https://www.york.gov.uk/council/devolution-unitarisation/1
The council's next #AskTheLeaders Live Q&A will be discussing this topic, in addition to local government reorganisation and the city's response to Coronavirus. The event will take place on the council's Facebook page on Tuesday 29 September, 5-6pm.
The panel, including representatives from City of York Council, North Yorkshire County Council and York and North Yorkshire Local Enterprise Partnership (LEP) will be answering your questions and responding to live comments.
How can I get involved?
Residents can interact with the session by either submitting questions in advance by emailing them to YourQuestions@york.gov.uk or commenting on the live video on Facebook where leaders will read out questions and respond.* Questions may be answered by theme rather than individually, so that the conversation covers as many topics as possible.
Cllr Keith Aspden, Leader of City of York Council said;
I want to thank everyone who has already taken part in Our Big Conversation and for sharing their views on devolution, including decision making and the size of your local authority.
"It is incredibly important that local residents, businesses and organisations have their say on these key issues, because the feedback we receive will form part of the Council's overall submission to the Government.
"Any devolution deal has to deliver real improvements for our local residents, businesses and communities and that is why we need to hear your views on these issues in Our Big Conversation (https://www.york.gov.uk/OurBigConversation). Residents can complete the survey online, or via their latest copy of Our City, and they have until 25 September to respond."
Cllr Carl Les, Leader of North Yorkshire County Council, said:
Devolution is something that affects us all in North Yorkshire and by its very nature is a conversation that we should all be part of.
"That's why it's important to get as many people as possible involved in events like this one, as it isn't just beneficial and informative for the public but for us, North Yorkshire County Council, as well – especially as the bid for becoming a unitary council is upcoming.
"Creating a single, strong, sustainable council in North Yorkshire by becoming a unitary is in everyone's interest.
"By working with and respecting York as its own authority too we can simplify and strengthen services for local people and businesses and aid the economy, building on that already established relationship to build connections that complement one another to aid the region's shared ambitions.
For the latest York updates on service changes, online support and how you can get involved in supporting your community visit www.york.gov.uk/Coronavirus
*Please note: Resident do not need a Facebook account to watch the live video however, they will need their own Facebook account to comment on the video with their questions (alternatively questions can be emailed to YourQuestions@york.gov.uk).