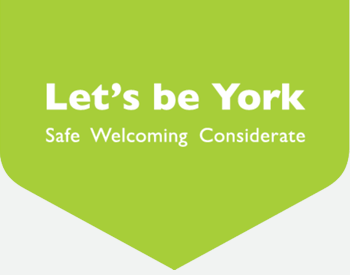 City of York Council has submitted a bid to the Government for £850,000 of funding (against an indicative allocation of £693,000).
This is part of an overall £1.45m programme, to maintain the growth in walking and cycling seen across the city during lockdown.
The Government's Emergency Active Travel Fund is designed to support walking and cycling as a long-term method for commuting, as the country emerges from the pandemic and to address the current capacity constraints on Public Transport. To receive any allocation from the fund, the council has to demonstrate 'swift and meaningful plans' to support cyclists and pedestrians in York.
This application is for the second of two phases, with the first seeing the council being awarded £193,000 in June (this was £20,000 more than the indicative allocation).
The funding for the second phase is conditional on demonstrating how the council is able to adapt the city's infrastructure to support more active travel, and how quickly these additional measures can be delivered.
City of York Council has submitted a programme of actions to support walking and cycling at key locations as alternatives to travel by bus or car.
Subject to a successful award of funding, the second phase aims to deliver the following schemes:
Improvements to A1237 outer ring road bridge – permanent provision of a cycle lane and improved footways over a 1km viaduct where provision is currently poor – linking suburbs on the northern and southern sides of the River Ouse and East Coast Main Line, including Manor School on the southern side and Clifton Moor Retail Park on the northern.
Further improvements on the A19 Shipton Road, a 3.2km radial route with cycle lanes currently being designed for delivery in phase 1. The additional funding will allow some of the existing pedestrian refuges on the road (which constrain the width of the proposed cycle lanes)) to be replaced with signalised crossings and improvements to the main junctions on the road.
Measures in the city centre to improve access into and around the city centre to serve the footstreets area and ensure that the heart of the city is as accessible as possible for pedestrians, cyclists and disabled residents. This scheme would include a range of measures such as improved signage, improvements to disabled crossing facilities, and a new crossing near Castle Mills Bridge catering for cyclists and pedestrians using the existing riverbank path, but wishing to travel across the Inner Ring Road into the south east of the city centre, an area being regenerated.
Measures focused on providing cycling and walking links between Wheldrake and Heslington. This scheme provides an off-road cycle route to Wheldrake, which will benefit commuters between the village and York city centre, including schoolchildren travelling to school in Fulford.
Acomb Road/ York Road Acomb cycle scheme – a scheme to improve conditions for cyclists on Acomb Road to the west of York, including many children travelling to local schools, but where there is currently very little provision.
School Zone Pilot - After a successful trial of a 'people street' concept at Carr Junior School in association with Sustrans last year, further changes would be planned to Ostman Road in Acomb for a pilot scheme, with potential future wider roll-out across the city.
Additional council funding will be used to compliment the schemes in the bid above, as well as consulting and co-designing schemes with local communities, residents and businesses. The second phase bid will complement the first phase of funding which is being used to deliver a number of measures across the city including:
Extensions to existing Park and Pedal facilities at Rawcliffe Bar Park & Ride site, alongside a new cycle route from the site along Shipton Road
Improved cycle parking in the city centre
Extensions to the footstreets area
Temporary footway widening at pinch points near shops
Alterations to signal timings to reduce pedestrian queuing at city centre traffic lights.
'The Groves' neighbourhood traffic reduction 18-month trial
This work will be co-ordinated with the council's Economic Recovery Strategy, which will be delivered over the next few months.
The strategy focuses on prioritising active travel, working with bus and rail operators to ensure people can continue to use public transport with confidence and creating a more people-focussed city centre.
These measures will be delivered at pace to best accelerate the recovery of the economy, allowing businesses to open safely, whilst protecting residents' safety.
Cllr Andy D'Agorne, Executive Member for Transport, said: "Following the Government's call to local authorities in May to look at ways to quickly and effectively re-allocate road space to pedestrians and cyclists, we are working on implementing package of short term trial schemes which can be implemented quickly and have put us in a good position to secure more funding in Phase 2 now.
"With more businesses and sectors now open, we will be moving swiftly to implement these measures that support a choice for those who can, to walk or cycle to the city centre more safely rather than driving.
"The benefits of cycling and walking have never been more apparent than during lockdown including cleaner air and the health aspects of more exercise. While public transport currently offers more limited capacity than normal, good quality Active Travel options are more important than ever. These measures do however also give us the opportunity to build a longer term culture of cycling and walking for journeys in and around York."
See further details of the Active Travel Bid.
Tell us what you think
We're asking residents and businesses to complete the Our Big Conversation survey, which kick-starts a year-long programme of on and offline opportunities for residents and businesses to shape the city's recovery.
Over 700 people have already responded and we'd be grateful for your views too.
These are very challenging times and the council wants to continue supporting businesses by giving them the space and opportunity to reopen and operate successfully.