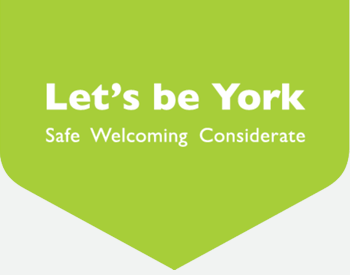 City of York Council is encouraging hospitality businesses across the city to make the most of recent national government licensing changes.
These changes are making it easier to use outdoor space for customers and serve take-away drinks.
The council is working with partners like Make it York and York BID to help businesses across the city to secure the space they need to open safely and allow residents to make the most of summer.
As well as extending footstreets and providing outdoor spaces like College Green, the council is reminding every business that they can support them to quickly take advantage of the new laws.
Our Let's Be York campaign is also reminding businesses and customers to dispose of their litter responsibly and to work with the council, York BID, volunteer hosts and local businesses who are all going the extra mile to keep the city safe, clean and welcoming during these very different circumstances.
Pavement Café licenses
To put tables and chairs outside your premises you need a licence.
As businesses reopen and require additional space to meet social distancing requirements, changes to pavement café licensing (under the Business and Planning Act 2020 and the associated Pavement licences: guidance) will streamline the licensing process.
Businesses can apply for a licence, valid for between 3 months and 12 months (not beyond the end of 30 September 2021), under the Business and Planning Act 2020.
There are plenty of opportunities in York to make the most of this – from outside your property, to shared spaces or even space outside of vacant properties. Businesses can get in touch with City of York Council to find out what options are available to them.
More information about Pavement Café Licences can be found here www.york.gov.uk/PavementCafeLicences alternatively please email cafelicence@york.gov.uk
Similarly, if retailers are interested in making better use of the footway outside their premises, they can find out more and seek permission by emailing highway.regulation@york.gov.uk
Licensed premises take-away option
New government legislation now means that premises licensed to sell or supply alcohol for consumption on their premises (for example, pubs, bars, restaurants and cafes) can now also sell alcohol for consumption off the premises without restrictions. This means many of the restrictions on your license – such as selling in a sealed container – no longer apply.
Off sales can only be sold or supplied until 11pm. This provision will end on 30 September 2021. The council can also provide guidance on containers and toilet provision.
This provision does not apply to premises that are authorised to sell or supply alcohol by means of a 'club premises certificate', for example private members clubs.
Find out more about recent changes here.
These actions are designed to support the council's Economic Recovery – Transport and Place Strategy, to build resident, visitor and stakeholder confidence that York is a safe, healthy and attractive place for everyone.
Cllr Andrew Waller, Executive Member for Economy and Strategic Planning, said;

"As our economy adapts to build back better, recent changes in licensing offer York's hospitality businesses a great opportunity to expand their capacity to welcome more customers to enjoy the vibrant food and drink scene across the city.
"Colleagues across the council are working extremely hard to streamline these processes to help our city's businesses reopen, recover and adapt. These changes make it easier for businesses to do just that, leaving them more time to do what they do best and offering customers more ways to enjoy the full range of local and independent shops which make York unique.
"We hope that visitors to the city centre will recognise the steps that businesses and attractions have taken, and to accept that there will be changes, but that these have been done with their safety in mind."