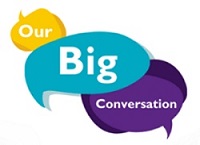 City of York Council has started a 'Big Conversation' with all York's residents to shape the city's recovery.
Over the next twelve months the council will hold conversations on and offline with residents across the city. It will tackle both recovery from the pandemic, as well as looking at the big issues which our city already faced.
Our Big Conversation invites residents to share their views on the climate emergency, how we move around the city, defining an exciting future for our city centre and district centres, where we live and work, what jobs are available, and how we make sure York's economy works for all residents.
There's a lot to talk about, and we know how precious your time is. We also know that, however much we've got used to technology over the past few months, online surveys and social media discussion aren't for everyone.
Our Big Conversation will involve a range of opportunities for the council to listen, and for residents and businesses to share perspectives with each other.
These include:
a regular 'taking the temperature' survey – available online and in the July issue of Our City
live sessions (online for now) in which leaders across the city answer your questions about our recovery and the city's future
providing ward members and community organisations with a toolkit to hold local conversations
adapt the 'My' series of engagements to make sure even more people can join the conversations shaping York Central, Castle Gateway, the City Centre, Acomb Front Street.
round tables to discuss sector by sector approaches to recovery
building networks and inclusive approaches to make sure all communities have a voice in the process, including the disabled communities, children and young people, older people, students and the LGBT+ community
sharing what people are telling us, so you know what other people in the city think, and why we make decisions
Cllr Keith Aspden, Leader of City of York Council said:
"I have been truly encouraged by the community spirit and considerate nature demonstrated by our residents and businesses over the past few months, and as we move forward out of lockdown, we are launching Our Big Conversation to harness that spirit and ensure our communities can guide the big decisions we face as a city."
"Of course, there's a great deal to discuss, and we know that many residents and businesses are busy adapting to changes in national guidance. Our Big Conversation will draw together all the challenges we face, from the recovery from coronavirus, to potential devolution in our region – we want to open a citywide dialogue on all the big issues in York, including those that existed before the pandemic.
I would encourage all residents, businesses and local organisations to get involved and contribute to the discussion about how, as a city, we tackle these challenges together and build back a better York."
Cllr Andy D'Agorne, Deputy Leader and Executive Member for Transport, said:
"Your answers to this survey will influence York's recover from the Coronavirus and the lockdown."
"So we need people from all walks of life to take 15 minutes to tell us how your life has changed, and what changes you want to see in the future.
This survey is one part of 'Our Big Conversation', which will offer you and other York residents many different ways to shape what the city looks like in the future."
How to get involved
Take the survey
Residents can join Our Big Conversation by taking just 15 minutes out of their day to complete our 'taking the city's temperature' survey - join Our Big Conversation online or through the July edition of Our City magazine, sent to every household in York. This survey will help York's continued recovery from the significant challenges we all face as a result of Coronavirus.
Register to stay up to date
We'll publicise further opportunities to join the conversation through local media, council publications, community groups and our own residents updates. Anyone with an email address can register for resident updates.
Ask us your questions
Coming soon, we will shortly be announcing another #AskTheLeaders Coronavirus Q&A live on Facebook to give you the opportunity to ask our panelists your questions on our city's response to Coronavirus and how we can come back from this stronger as a city. Watch out for more information on social media.
Don't miss out on your opportunities to influence the future of York
The public are invited to comment on the latest planning application for York Central, which deals with the infrastructure required to open up the site such as new bridges, roads, cycle and pedestrian routes.