Staff can install software which allows our ICT Service Desk technicians to connect directly to your device:
download the file
run the file
confirm the installation
Please note: to install software you'll need 'administrative rights' to your computer, otherwise this installation will not continue. This process does not work in Citrix Desktop.
Once installed, the software will open and present you with the numbers you need to give to our ICT Service Desk technician: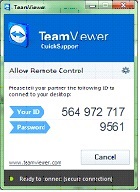 If you need assistance contact our ICT Service Desk on tel: 01904 552222.
Also see