About the inquiry
An inquiry was called by the council's leadership in January 2016 and subsequently agreed at the Executive in March 2016 to look at how the city coped with the floods of 2015 and issues such as the information given to residents, the response of key organisations and the failure of the Foss Barrier on Boxing Day.
Representatives from key organisations were asked to give their account of the floods to the inquiry team and evidence was given from others including those affected. The outcome of the inquiry will be to develop an action plan in response to the recommendations.
The inquiry panel has now published its final report.
To find out more about the inquiry, see our:
Independent Panel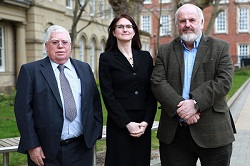 On 25 April 2016 City of York Council announced the independent chair and panel members who led the inquiry into the 2015 floods in York.
The independent chair and panel members include: (L-R) Mr Tom Toole, Ms Angharad Davies and Mr Laurence Waterhouse.
Ms Angharad Davies - Independent Chair
Ms Davies is a self employed barrister. She originally developed a common law practice from Chambers in York. She has since specialised in civil, regulatory and employment law. Ms Davies is now based from St Paul's Chambers in Leeds. Alongside her practice, she teaches on the Bar Professional Training Course at BBP University in Leeds. She is also an accredited Advocacy Trainer with the ATC and North Eastern Circuit.
Ms Davies is professionally regulated by the Bar Council and like all barristers she is subject to a professional code of conduct set by the Bar Standard Board. She is committed to upholding trust and confidence in the bar.
Ms Davies has been recommended in Legal 500 as a leading employment junior.
Mr Laurence Waterhouse - Panel Member
Mr Waterhouse (FRSA, MRICS, MCInstCES) holds over 40-years experience in flood risk and river management in the Yorkshire area, plus extensive UK and international experience.
He was also Chairman of the National Flood Forum in which he gave evidence to the Pitt Review on the 2007 Floods and at the committee stage of the Flood and Water Management Act 2010 in Parliament.
Mr Waterhouse's current position is Technical Director and Head of Flood Risk and Climate Change at Pell Frischmann Consulting Engineers. He was a member of the United Nations Expert Panel on Climate Change Adaption. Additionally, he has extensive experience in Flood Protection, Flood Damage Assessment and Mitigation Techniques.
He manages the Flood Resilience and Climate Change Team at Pell Frischmann and he is project manager on projects such as the £14.4m Willerby and Derringham Flood Alleviation Scheme (WaDFAS) in Hull and the River Hull Integrated Catchment Strategy, for which his team won the ICE Sir John Fowler Award in 2015.
Mr Waterhouse also has experience in chairing and representing flood victims at public meetings and he understands the financial, emotional and social effects of flooding on householders, individuals and businesses.
Mr Tom Toole - Panel Member
Mr Toole (BSc CEng CWEM FICE FCIWEM) has an extensive career in the water industry which started with Consulting Engineers in the North of England, where he worked until becoming a Chartered Engineer in 1975 when he also moved onto Yorkshire Water.
His career progressed with various promotions at Babcock Water Engineering and EarthTech Engineering where he was Senior Project Manager/Client Services Manager on various water related projects in the UK/Europe/Far East.
In 2001, he moved on to Arup Water based in Leeds and took on the role of Associate Director responsible for the Wastewater Business. Tom also took on the role of Commercial Director for the Arup UK Water business.
During the period between 2001 and his retirement in December 2010, Mr Toole became frequently involved in Expert Witness work for various clients. A particular case in the Republic of Ireland included flooding caused by design errors and failures of mechanical equipment.
>He has led multi-disciplinary teams of specialists and produced comprehensive expert reports based on the extensive analysis undertaken.