We're aware that we need to have an understanding the impact of increased pedestrianisation on disabled people.
We've extended the number of pedestrianised areas, or footstreets, in the city centre to allow social distancing and to help support York's economy. We've also extended the time that vehicles cannot enter these areas from 10.30am until 8.00pm.
Join Our Big Conversation
We've had to act quickly and in line with government guidance which often arrived at short notice, and so were not able to consult beforehand. Now want to find out how these changes have worked for Blue Badge holders and other people who need to access the city centre.
Take the survey so we can make improvements
This survey will close on Monday 28 September 2020.
We want to hear from all disabled people, whether they use a blue badge or not. We also welcome the views of any other residents who may not consider themselves disabled but feel the footstreets extension has restricted their ability to access the city centre.
This information and survey is one way we're engaging with disabled people in York about the ongoing extension of the footstreets. We're also consulting with a number of disability and advocacy groups in York about the changes.
We're responding to every individual who has contacted us about the changes and aim to reach as many people as possible over the next few weeks.
The impact of the coronavirus pandemic on people's health and livelihoods forced councils across the UK to take swift action.
Our priority has been limiting the spread of the virus and supporting residents most at risk, both from the virus and the impact of lockdown, while doing everything we can to protect livelihoods. This is set out in our Economic Recovery Transport and Place Strategy.
We knew that some of the solutions would not be perfect and would need refining. We planned engagement work to run alongside the changes to help us make improvements. This is one of your opportunities to join that conversation and help us make sure the city centre remains accessible to you and other disabled people.
The changes we have made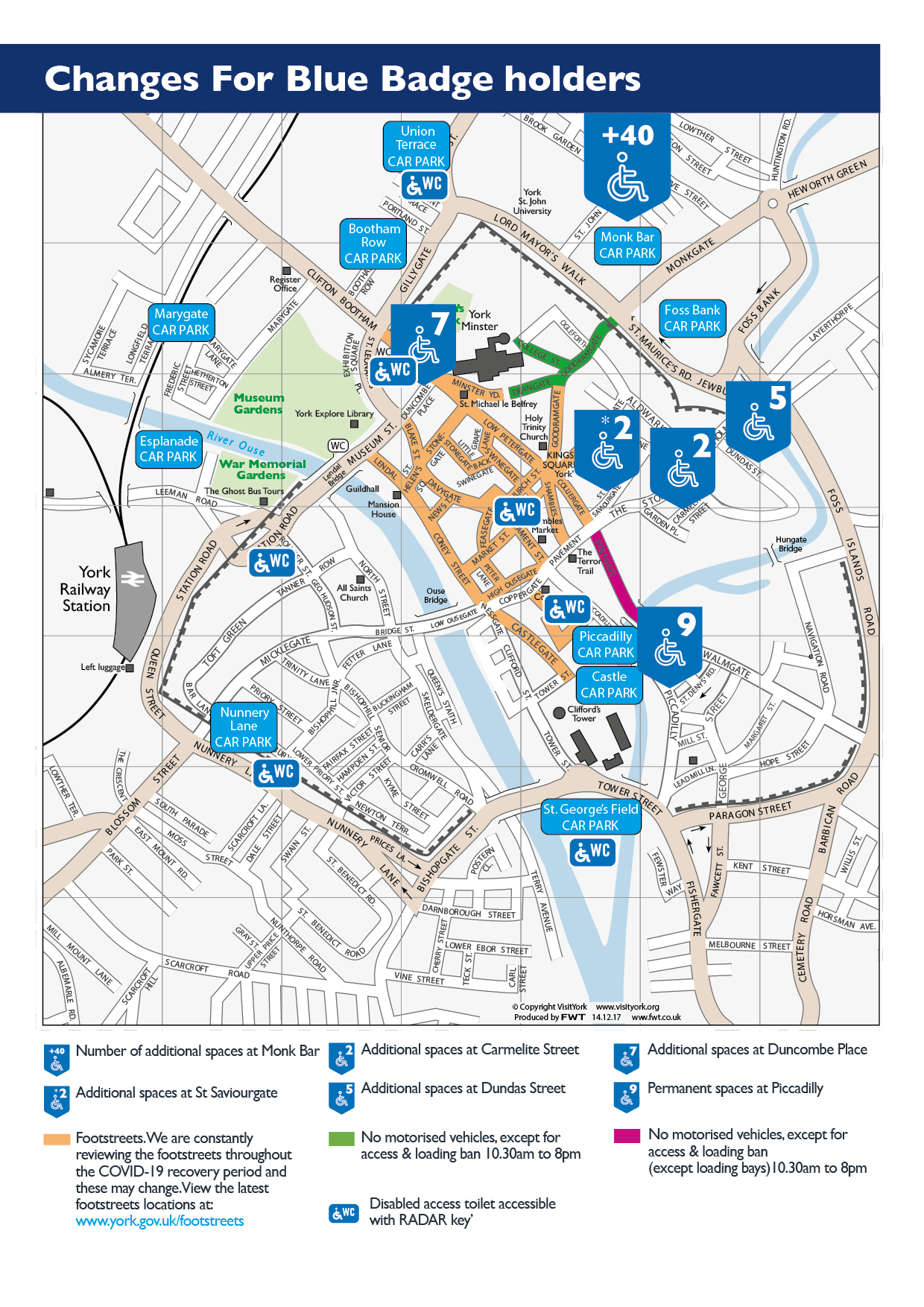 With 30% of York's jobs based in the city centre, we've had to create space to allow people to safely return whilst socially distancing.
Extending the size and time of the pedestrianised footstreets created that space, while allowing shops to use pavements and outdoor spaces.
The changes
We extended pedestrianised footstreets to include more streets (marked in orange on the map):
Blake Street
Church Street
Colliergate
Fossgate
Goodramgate (between Deangate and King's Square)
Castlegate
King's Square
Lendal
St Helen's Square
We've also extended the footstreet hours further into the evening. This means vehicles are not allowed to access or park on footstreets, including deliveries, between 10.30am and 8.00pm, 7 days a week.
We understood that this would impact on some businesses, disabled people and residents living in the city centre. As there was no time to consult, we drew on feedback from previous consultation and put some alternative arrangements in place.
These include:
40 dedicated disabled parking bays at Monk Bar car park, chosen because previous consultations suggested Blue Badge holders preferred the open car parks to multi-storeys. The height restriction has also been removed
a free taxi shuttle service, run by licensed York Hackney Carriages, to drop-off and collect from the edge of the footstreets at Barnitts on St Andrewgate
new disabled parking bays on the edge of the footstreet areas at Duncombe Place, St Saviourgate, Dundas Street (signs to be installed early September) and Carmelite Street
working with Shopmobility to ensure they reopened at the same time as the changes were introduced
Free Blue Badge parking is still available:
in all council car parks
on double yellow lines
in the new bays along Piccadilly, introduced in early 2020
The results of this survey will be used by councillors and council officers to influence their decisions and will be available on York Open Data.
Also see