We're proposing some changes to the city's road network around Navigation Road. The changes will:
improve road safety for residents in the neighbourhood
reduce through-traffic
improve our city's north-south cycle route
Navigation Road has always been well used by local residents to access nearby facilities but is increasingly being used by drivers as part of an informal cross city short-cut to avoid sections of the Inner Ring Road. These proposed changes aim to reduce the negative impact of this and improve the safety of everyone travelling to and through the area, whether by foot, bicycle or car.
We want to hear your thoughts on these proposed changes so that we can inform future, more details, designs for the area.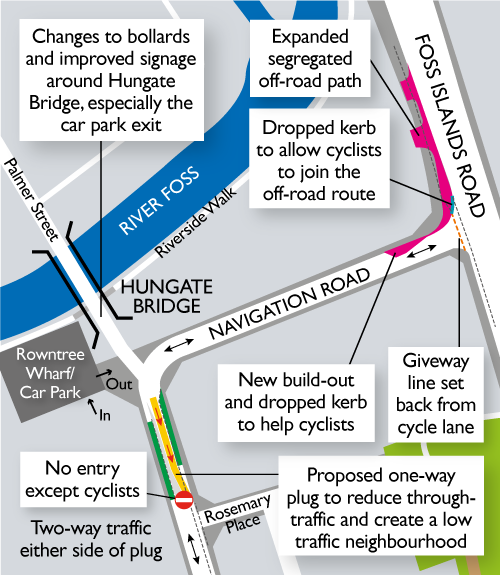 Proposed improvements
The works aim to support a low-traffic neighbourhood in the Navigation Road area and improve the safety of pedestrians, cyclists and road users travelling between Hungate Bridge, Walmgate and Foss Islands Road.
The works include:
safety improvements to the shared path on Foss Islands Road in front of Travis Perkins and Majestic Wines, improved Navigation Road junction and a build-out kerb to help cyclists safely join and leave the shared path
a short section of one-way road on Navigation Road (between Rosemary Place and Rowntree Wharf) to reduce through-traffic from the city centre. Residents will still be able to drive from Foss Islands Road to Walmgate.
However they will not be able to go beyond Rosemary Place when travelling from Walmgate towards Foss Islands Road. The alternative route to this will be through Walmgate Bar and then left onto Foss Islands Road, which is only 60m further
access improvements at either end of Hungate Bridge to reduce potential conflict between pedestrians and cyclists
improved signage at the Navigation Wharf end of Hungate Bridge to reduce potential conflict between vehicles exiting the car park and bridge users.
More information on the proposed works can be found in details from the Executive Member for Transport Decision Session on 20 October 2020:
Have your say
We want to hear your thoughts on the proposed changes to the area and any further comments you would like to share with us about this scheme at this early stage.
Take part in the consultation and have your say by completing our online survey.
The consultation will run from Monday 7 December 2020 to Monday 4 January 2021.
At the end of the consultation feedback will be reporter to the Executive Member for Transport to decide whether or not to proceed with more detailed designs.
Also see