You're invited to use the CarFlow app (produced by our traffic signal contractor Dynniq) and provide feedback on the use of new technology in York.
During our trial, funded by the Department for Transport (DfT) under the Smart Transport Evolution Program (STEP), which lasts until October 2025, 'Green Light Optimized Speed Advisory' (GLOSA) technology, provides speed advice via an in-car app, to help you navigate traffic signals and 'get through on green', when driving on roads in York.
The CarFlow app is undergoing updates and development throughout the trial based on feedback received.
---
Benefits of using CarFlow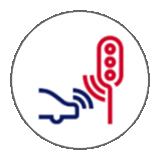 CarFlow from Dynniq reduces stop-start vehicle movement at traffic lights, which in turn:
reduces emissions and brake particles from less efficient driving
reduces wear and tear on vehicles
provides a smoother, more pleasant journey
potentially improves the overall efficiency for road users behind a CarFlow vehicles
informs research on future services for connected and autonomous vehicles
Download the CarFlow app for Apple and Android.
---
CarFlow trial in York
The trial will help us understand:
what operational challenges may arise when running the service
How the service could be improved going forward
what lessons can be shared with the DfT and other road authorities
CarFlow trial area map
The CarFlow trial area is marked in blue on the map; click an individual feature to see more details.
Due to the slower moving nature of city centre traffic and close proximity of signal sites, GLOSA is not well suited right in the centre; the trial covers traffic signals on the A59 (Boroughbridge Road) and the A1079 (Hull Road) in York.
Zoom in (+) or zoom out; (-) or move/drag the map to reveal information; you can also:
search by street name or postcode
click >> or << to reveal or hide the map legend
If you're taking part in the trial, remember:
some things may not work as well as expected because of the nature of a trial
if roads leading to traffic signals become congested, speed advice may not be possible
where turning signals are activated by vehicles queueing at a junction, green predictions may not be displayed the benefits of CarFlow are reduced in peak times
if you go over the speed limit to 'beat the lights' the app will stop working and display only the correct speed limit for the road
we're working with Dynniq to address any problems as feedback is received, so we're keen to hear from you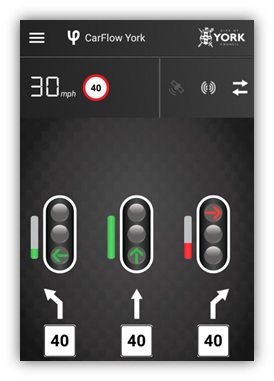 The CarFlow app when a user is approaching a set of traffic lights.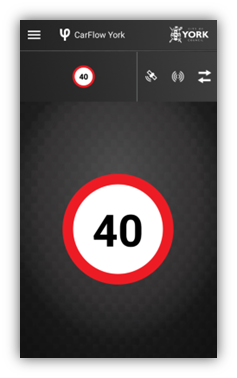 The CarFlow app when a user is travelling over the speed limit.
---
Provide feedback on CarFlow
The CarFlow trial is an exciting opportunity for you, as a resident of York, or a visitor to York, to provide feedback on experimental use of technology in the real world. Download the app to get involved and experience the benefits too!
Closed trials have been conducted in Newcastle, Birmingham and Manchester but never before with public in the UK.
We're keen to learn what you think about CarFlow; to get involved fill out the feedback form.
---
Also see
Smart Travel Evolution Programme